Weather News – Zebra finches' ingenious 'vocal panting' cools them down and signals hot weather to embryos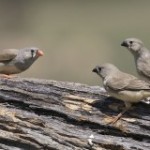 Zebra finches' ingenious 'vocal panting' cools them down and signals hot weather to embryos


By Alice Walker and Beth Gibson,

Friday December 4, 2020 – 12:03 EDT


Zebra finches use 'vocal panting' to cool themselves down in hot weather, researchers have found.
– ABC licensed


As this latest heatwave breaks records across Australia, we're being forced to adjust to new levels of heat.
What if you could increase your tolerance to heat just by repeating the phrase 'I feel hot'?
That is what zebra finches do, according to an ongoing study from ecology researchers at Deakin University.
The zebra finch is an Australian…