Weather News – Lake Cargelligo teenagers on harvest leave bring in grain crop amid COVID-19 worker shortage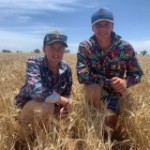 Lake Cargelligo teenagers on harvest leave bring in grain crop amid COVID-19 worker shortage


By Cara Jeffery,

Friday December 4, 2020 – 09:22 EDT


Reagan Golding, 14, and brother Joel, 16, have been busy with harvest on their family farm.
– ABC


At just 14 years old, Reagan Golding is handling harvest like a seasoned farmer.
She is charged with driving the tractor and chaser bin to collect the harvested grain at her family's farm at Lake Cargelligo in the NSW Central West.
Reagan's older brother, Joel, 16, is chief header driver and is stripping the grain from the crops.
A perk of driving the header is the…