Weather News – Family hikes to safety after being trapped by floodwaters at Upper Lansdowne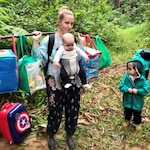 Family hikes to safety after being trapped by floodwaters at Upper Lansdowne


Wednesday April 7, 2021 – 22:49 EST


The family hiked out with their baby and young children after being trapped by floodwaters for days.
– ABC


James Archer says his wife is a true hero for helping save their young family when floodwaters surrounded their remote cabin.
Mr Archer moved to the bush with his wife Lauren about five years ago. They left the bustle of Sydney and embraced a total tree change.
"We left the city behind and started a homestead in the rainforest," Mr Archer said.
They built a cabin at Upper Lansdowne, north of…